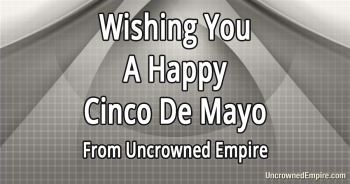 Cinco de Mayo, or translated as the Fifth of May, is the Mexican holiday that celebrates the Mexican victory over the French at the Battle of Puebla during Franco-Mexican war.  The day is sometimes referred to as Battle of Puebla Day and always falls on the 5th day of May.  Cinco de Mayo is often referred to in the United States as Mexican Independence Day, but this is an incorrect reference as it is a minor holiday in Mexico and is the celebration of a single battle. Mexican Independence Day, or Día de la Independencia, is celebrated on September 16th as the commemoration of Mexico's declaration of war against the Spanish government in 1810.
The Franco-Mexican war was a joint military response by France, Britain, and Spain who sent military forces to Veracruz, Mexico demanding repayment of loans and other finances due to Mexico's ongoing financial troubles and defaulting on recent payments. Britain and Spain never engaged in military combat due to negotiations with the Mexican government, however, France decided to use the opportunity to expand their empire into the Mexican owned territory. The Battle of Puebla was a final stand made by a ragtag Mexican military force that was vastly outnumbered and underequipped to face the French army but managed to hold the line against the French invasion. After this battle The United States, who was finally recovering from the Civil War, began to apply political pressure to the French and support for the Mexican military causing the French forces to withdraw.
While in Mexico, Cinco de Mayo is primarily observed in the state of Puebla, where the victory had occurred, the United States began celebrating the holiday around the 1960s as a celebration of Mexican culture and heritage within the United States. Since the 1960s Cinco de Mayo has rapidly grown in popularity within the United States with numerous festivals and events celebrating Mexican traditions and culture within the nation. While the holiday is still officially the commemoration of a victory in a military battle, it is widely regarded has a cultural celebration in modern times here in the United States. Many people connect this holiday with the association of Mexican traditions due to the high number of indigenous Mexicans that fought in the Battle of Puebla.